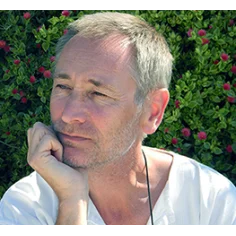 chef de chœur Bruno Rossignol
Bruno Rossignol, né en 1958 à Nanterre, est un compositeur, chef de chœur et d'orchestre, pianiste et pédagogue.
Biographie
Il suit des études musicales à l'École normale de musique de Paris et à la Sorbonne. Puis il dirige des chœurs : d'abord chef stagiaire à l'Opéra de Paris et au Chœur de l'Orchestre de Paris (auprès de Jean Laforge et d'Arthur Oldham), il est ensuite chef fondateur du Chœur de chambre de l'Île-de-France (1er prix des Concours internationaux de Malte en 1989 et de Vérone en 1993). Avec cet ensemble, il reçoit le Grand Prix des Hauts-de-Seine en 19961.
De 1985 à 1995, il est le chef de chœur des spectacles musicaux de Jean-Michel Jarre, qu'il a accompagné à Londres, Paris-La Défense (1990), Berlin, Budapest, Séville, Barcelone, Saint-Jacques-de-Compostelle, Mont-Saint-Michel2.
Il est directeur des Conservatoires de Jouy-en-Josas de 1989 à 1992, de Suresnes de 1992 à 1997, d'Orsay de 1997 à 2000, de Bourges de 2000 à 2005 et Hector Berlioz à Paris 10e de 2005 à 20101. Il dirige le chœur d'adultes du conservatoire Paul Dukas à Paris 12e de 2006 à 20103.
En 2011, il est nommé directeur du Conservatoire à rayonnement départemental (CRD) de la Dordogne et directeur artistique de l'ensemble instrumental de la Dordogne (E.I.D.)4 avec lequel il se produit principalement en région Aquitaine5. Il crée dans le même temps le chœur de Dordogne2 qui devient le chœur PaRatge en 2016. Il rejoint Paris cette même année pour prendre la direction du Conservatoire Jean-Philippe Rameau (6ème arrondissement)6.
En 2019, il dirige l'ensemble choral Promusica de Sainte-Foy-la-Grande.
Il se produit régulièrement en France7 et notamment dans la région Nouvelle-Aquitaine, au piano, accompagné par sa fille Mathilde Rossignol au chant (mezzo-soprano)8,9.
Patrick Hilliard a étudié la musique à l'Université de Reading avec Peter Wishart et au RNCM avant de s'installer en France en 1986.
Il travaille comme accompagnateur de piano et chef de chœur dans le sud-ouest, principalement en Dordogne, se produisant régulièrement en concerts avec des musiciens professionnels ou amateurs.
Son amour de la musique française du XIXe siècle l'a conduit à redécouvrir et enregistrer des œuvres rares notamment de Clémence de Grandval, Marie Joseph Erb ou Théodore Dubois.Son attachement à la musique britannique se reflète dans son travail avec Atarah Ben-Tovim le flûtiste ou l'Ensemble Instrumental de la Dordogne avec qui il a dirigé un programme de Warlock en 2019.
Lauréat du dernier prix d'accompagnateurs Peter Pears, il s'est produit au Wigmore Hall, aux salles de musique Holywell à Oxford, à la Royal Academy of Music ainsi que dans diverses salles de Cambridge et du sud-est.
En tant qu'organiste continuo, il a collaboré avec Ton Koopman, Michel Laplénie (Arts Florissants) et Simon Pierre Bestion.
Les collaborations récentes incluent des projets avec le choeur philharmonique de Sheffield (Brahms Requiem, Haendel's Messiah, Dubois 'Messe de la Délivrance) et l'orchestre Silverstrings de Saint-Pétersbourg
(
Bruno Rossignol, born in 1958 in Nanterre, is a composer, choir and orchestra conductor, pianist and teacher.
Biography
He studied music at the Normal School of Music in Paris and at the Sorbonne. Then he conducted choirs: first trainee conductor at the Paris Opera and at the Chœur de l'Orchestre de Paris (with Jean Laforge and Arthur Oldham), he was then founding conductor of the Chamber Choir of the Île-de-France (1st prize in the International Competitions of Malta in 1989 and Verona in 1993). With this ensemble, he received the Hauts-de-Seine Grand Prix in 19961.
From 1985 to 1995, he was the choirmaster for the musical shows of Jean-Michel Jarre, whom he accompanied to London, Paris-La Défense (1990), Berlin, Budapest, Seville, Barcelona, ​​Saint-Jacques-de- Compostela, Mont-Saint-Michel2.
He was director of the Conservatories of Jouy-en-Josas from 1989 to 1992, of Suresnes from 1992 to 1997, of Orsay from 1997 to 2000, of Bourges from 2000 to 2005 and Hector Berlioz in Paris 10th from 2005 to 20101. the adult choir of the Paul Dukas conservatory in Paris 12th from 2006 to 20103.
In 2011, he was appointed director of the Departmental Conservatory (CRD) of the Dordogne and artistic director of the instrumental ensemble of the Dordogne (E.I.D.)4 with which he performs mainly in the Aquitaine region5. At the same time, he created the Dordogne choir2 which became the PaRatge choir in 2016. He moved to Paris that same year to take over the direction of the Jean-Philippe Rameau Conservatory (6th arrondissement)6.
In 2019, he directs the Promusica choral ensemble of Sainte-Foy-la-Grande.
He performs regularly in France7 and particularly in the Nouvelle-Aquitaine region, on the piano, accompanied by his daughter Mathilde Rossignol on vocals (mezzo-soprano)8,9.
image et texte avec l'aimable autorisation de wikipedia)
en:
Patrick Hilliard studied music at Reading University with Peter Wishart and at the RNCM before moving to France in 1986.
He works as a piano accompanist and choir conductor in the south-west, primarily in the Dordogne region performing regularly in concerts with professional or amateur musicians.
His love of French nineteenth century music has led him to rediscover and record rare works notably by  Clemence de Grandval , Marie Joseph Erb or Théodore Dubois.His attachment to British music is reflected in his work with Atarah Ben-Tovim the flautist or the Ensemble  Instrumental de la Dordogne with whom he conducted a programme by Warlock in 2019.
Winner of the last Peter Pears accompanists prize he has performed at the Wigmore hall, the Holywell music rooms in Oxford ,the Royal Academy of music as well as various venues in Cambridge and the a South -East.
As a continuo organist he has collaborated with Ton Koopman, Michel Laplénie (Arts Florissants) and Simon Pierre Bestion.
Recent collaborations include projects with the Sheffield Philharmonic choir (Brahms Requiem,Handel's Messiah, Dubois' Messe de la Délivrance) and the Silverstrings orchestra of St Petersburg